Why should you care about Backlinks, if no one knows you?  What are Backlinks in SEO and how do they play an important role in Digital Marketing for newly formed websites of start-ups and small businesses who have started their new digital journey? In this article, we learn about Backlinking Strategy in SEO.
There is always a curiosity to know the algorithms and important reasons to rank number one in Google searches. Do you know that even to appear in the ninth or tenth position of Google search, your website needs to have an average of over 30,000 backlinks?
How do you bring your website to appear organically on the first or second page of Google search? It is not only through SEO but it is a combination of many variables like brand, content, target audience, situation, topics, keywords, and authenticity to get visibility in search engines.
I might touch on other variables in brief but this article is mainly about Backlinks in SEO and the types of backlinks you should care about.
You are new to digital marketing, and so is your website, I am sure building a strategy for backlinks in digital marketing strategy and SEO planning carries a critical puzzle that seems to be difficult to solve. Let's try to crack it to start. What if you and your website are new, and still need to start, let's understand what is a backlink and what is required to be taken care of to aim for a good ranking in organic search.
What is a Backlink? 
Backlinks meaning is that it is a link also known as an 'inbound link' or 'incoming link' and is created when one website links to another. These links are very important to SEO campaigns but the backlinking strategy involves many other variables.

How do Backlinks work?
Backlinks tell Google the authority of your source and it recognizes the various links in the content. It's a simple calculation: the more your content is linked, your web page will have a higher ranking on search engine results. It helps to improve website traffic coming to your content, and domain and establishes page authority. You must have seen that you are reading an article and the page is linked for a further relevant explanation of some topic, similarly, if someone is reading a blog and finds the link to your page, chances are that the reader might click and reaches your website. That's how it increases your website's search rank and backlinks.
If no one knows about you, start telling them the first rule of any kind of work is to build good relationships and it is called good public relations. Since the beginning of our life, we have seen and experienced that relationships are important everywhere, so here also we need to start with the same. Let's look at various ways to start building relationships and everything else follows. Your Social Media Management strategy should not only have backlinks as an SEO campaign but various other parameters also need to be worked into it as shared in the below section explaining Types of Backlinks with Examples.
Build Relationships:
Build backlinks by building relationships. Public Relation is a strategy that works well everywhere and here too.
High-Quality Content Strategy:
This backlinking strategy needs to have a good content strategy too. It should have great, educative, informative, interesting, and authentic content and aim to have it better as compared to other content in your industry.
Be transparent and sincere in your write-ups as the audience can sense the fake content. Being real goes a long way in building a good long-term rapport with your audience. No one will link your content/article if the content is not worth linking. All writers prefer content full of knowledge and add value to the knowledge of the reader, so the content strategy is very vital for backlinks too.
It has also been experienced by good sites that have more focused and relevant images, higher word count, relevant keywords, good title as per the content, title tag, and meta description helps in SEO.
This picture explains the Types of Backlinks with examples. Create your own infographic for your blog to add a visual and quality description so that people can share links to your website, the way I have added on the left along with this content covering the details of this article.
Website Performance and Technical SEO 
Google bots can crawl titles, headers, and meta descriptions to help your website with a better ranking. Over the years Google has also started ranking websites based on their design, performance, speed, etc. Google takes note of websites with technical issues so avoid them.
Be Active on Social Media:
Indulge in giving your comments on quality articles. It should not be too pleasing but a genuine relevant comment.
Email list:
Utilize social media and your continuous engagement with more people to increase your email list.
Align all social signals: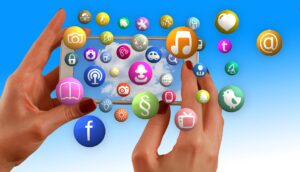 It is an important strategy for new entrants and new websites. With the same name, address, phone numbers, email, description, information, etc. so that social profiles match your website.
Guest Blogging:
It helps in backlinks. Start writing valuable content on your website/blog and slowly build a list of guest blogging sites
Testimonials:
Giving genuine testimonials for other websites or reviews for services or products in your industry might not look like a good idea to many but it is found to be good for SEO and backlinking strategy.
Linking other articles on your website:
It increases interactions and builds the relationship in the hope to have backlinks. Relevant links can be inserted with good quality content as it is important for SEO and backlinks.
Acknowledgment Backlinks:
These are when a website mentions a relationship as a reference to another website like in the case of a brand sponsoring an event or speaking at a conference or giving you or your website any added value like the way I am linking here the website of 'Digital Deepak' who has added value and vast knowledge on all the various topics of Digital Marketing. To know more, visit Digital Deepak.
Bad SEO Strategy:
Bad Backlinks:
These are major reasons for the reduction in SEO performance. You must ensure that links of your website do not appear on spammy websites and in case you receive too many bad links, your website has more chances to be removed from search results.
Paid Links:
seem to be an easy option for many but this will harm your website's ranking in search results. As per Google too buying or selling backlinks is a bad strategy.
Backlinks from another Website:
There are various ways to get connected with websites or people to get backlinks from them. But it is vital to emphasize effective links and not on all kinds of backlinks. 
How many websites can be linked in one article?
This too falls under a bad SEO strategy when many websites are linked in the same content. Backlinks should be linked naturally in content and the layout of the page should also be good and not a mirror page.
Conclusion:
Aim for good organic backlinks built over time and maybe few in number as compared to many but bad ones. The quality of the website is dependent on the quality of your backlinks along with other parameters of a good SEO strategy. Before you start your SEO strategy, resolve queries like What are backlinks in SEO? Backlinks meaning or What are backlinks in digital marketing? Types of Backlinks and Examples of Backlinks. All the very best!
Please leave a comment if you find this article to be informative.